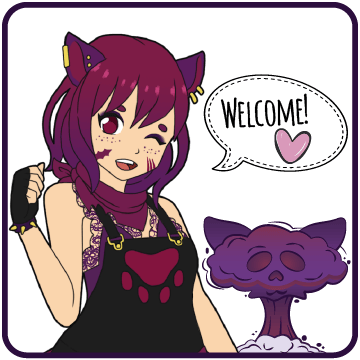 CATastrophe Creation
Cats, Chaos, and Crafts!
Hello~ I'm Neko!Long time cosplayer and life-long creative, I started making cat-themed crafts in 2018. From catnip jellyfish to cactus kittens, my chaotic mix of wares is a mystery, even to me. I love coming up with new products and seeing how people react to them!I work with felt, yarn, clay, resin, and my arsenal is ever expanding.A little bit of everything all of the time.Though cats are where I got my start, I'm expanding to a broader pop culture appeal. I love D&D, Cosplay, Anime, Comics, and so much more; and I want to blend my passions and creations. I've also begun developing cute and compact stim and sensory items for my fellow neurodivergents!Crafting is my Hobby and it makes me so happy to share it with you all!
Email Me!
Send an email with the product(s) you would like to order. If the products have a grid number, please include that in the email. If specific inventory is not listed I will send photos of available products.
I can also take Custom Requests! (This will require additional time and cost)Don't hesitate to message me if you have any questions!
PAYMENT
Payment through PayPal (USD)
Payment is given up front, after the order is accepted and shipping cost is determined.If you are local to the NW Ohio area, we can potentially arrange a meetup to save on shipping costs.
Contents:
Large Class Pin
Alignment Pin
Species Pin
Familiar/Pet Pin
Random Die
Random Character Trait